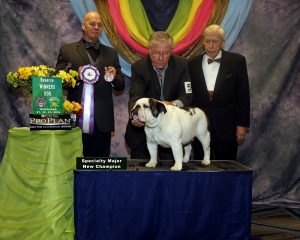 My interest in bulldogs began in 1965 when my father in law gave us our first bulldog. We eventually bred her and she became a mother of 9 bulldog puppies. From this point on I began to show and breed my bulldogs over the following 12 years. In 1979 I went to work for General Motors and with raising and putting my children through school taking most of my time, I placed all of my bulldogs into good homes.
In 1988, after all of our children finished college, I purchased several bitch puppies from excellent bloodlines and built a very nice kennel. I truly believe that the bitch is the backbone of a great breeding program. Since 1990 I have finished 10 homebred champions to become a Hall of Fame Breeder. In 1998 I received my AKC judging license to be able to judge this wonderful breed.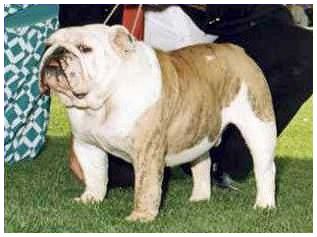 I would like to recognize the time and effort that my partner Joyce Wolfe in California has put into showing and finishing several of the dogs, that we bred together. This has helped me achieve the Hall of Fame Breeder Status. She also was responsible for helping me to obtain three outstanding stud dogs.
CH Brian's How About That
CH K-Jo's Wild Card Man
CH Little Ponds Leroy