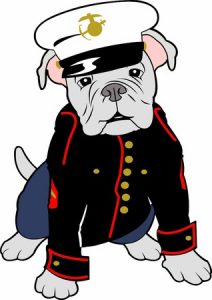 If you love bulldogs as much as we do, you probably already know that the mascot of the U.S. Marine Corps is an English bulldog named Chesty. How much do you know about this time-honored tradition? Here's how the English bulldog became the Marine Corps mascot:
All over the world, bulldogs are recognized as symbols of courage.
During World War I, the Marines fought with so much bravery and ferocity in the battle of Belleau Wood that their German adversaries reportedly called them teufel hunden, after the "devil dogs" found in Bavarian folklore. The nickname stuck even after the war.
A recruitment poster for the Marines prominently featured a bulldog wearing a United States helmet, chasing a dachshund in a German helmet. Thanks to the poster and the German nickname for the Corps, the bulldog soon became the mascot of the Marine Corps.
In 1922, Jiggs, the first official Marine Corps bulldog, joined the ranks. When he passed, four years later, he was buried in a ceremony with full military honors. The tradition of naming Marine Corps mascot bulldogs Chesty began in 1957, when the marine's new mascot was named after Lt. General Lewis "Chesty" Puller. Today, Chesty XV has the honor of mascot service.
In truth, there's simply no better breed to represent the Marine Corps than the loyal, tenacious bulldog. When you bring home an English bulldog of your own, you'll soon discover the unique traits that have made this breed such a beloved figure among our nation's servicemen. To learn more about our bulldog puppies, feel free to give us a call at (405) 329-0066 today!