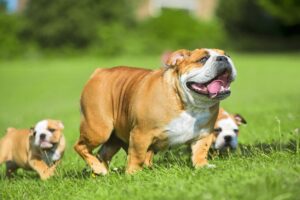 When you bring home a dog to your family, you have to understand they won't always be content with just hanging out with you and the family. It's important to bring socialization into their lives with other dogs. Now, keep in mind, you'll have to train your dog the proper way before they can be comfortable with other people and other dogs.
Here are some benefits of dog socialization:
Make Interactions Easier and Grooming Easier
When you give your puppy a chance to meet other dogs and humans, you're giving them the opportunity to get comfortable around strangers. It's never a good thing to keep your dog isolated at home because if you do end up in a socialization situation, they may react distant or uncomfortable. This may give them anxiety and nervousness.
Grooming is essential for a dog's health, which means you'll have to schedule professional dog grooming sessions regularly. If you train them and get them into socialization early on, bringing them to the dog groomer will become much easier for the future.
Playtime & Exercise
Bringing your dog to the dog park or dog bars allows them to meet other people and dogs. This also is an opportunity to get them to go out and play with other dogs, get needed exercise, and get them into a different environment for a change.
Socialization Eliminates Stress & Anxiety
Giving your English Bulldog the chance to socialize will ultimately eliminate stress and anxiety in their lives. They will feel more confident and comfortable around other people and dogs. Just like humans, someone or some dog who is not sociable usually has more stress and anxiety in their lives.
Makes Both of Your Lives Easier
Many people who get dogs decide that they won't be having a social life as much anymore because they can't leave their dog home alone too much. With English Bulldogs, they're pretty tame when it comes to relaxing and not getting to anxious when you have to run out for a few hours. There is another way to satisfy both of you. Helping them early on with socialization will allow you to bring them places, travel and vacation, and be comfortable that they won't run away.
At Cedar Lane Bulldogs, we provide English Bulldog puppies for sale for families and individuals in Oklahoma. English Bulldogs are amazing dogs to bring home to your family, and they tend to be very friendly, loving, and sociable dogs. Contact Cedar Lane Bulldogs at 405-329-0066 today or visit us online for more information!