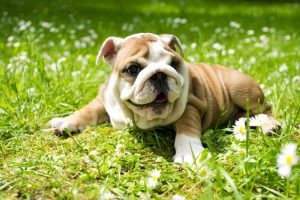 The English Bulldog is a very famous dog. From university mascots to British Royalty, these loveable creatures are known for being a high standard dog. Of course, there are many reasons for them being so loved around the world not only as pets, but for being companions as well.
Personality Traits You'll Love
Their personality plays a role in the way people are drawn to them. They are very affectionate dogs who love to be by your side and fall for humans easily. Most dogs, when fed and given a loving home will be attached to your hip, but with English Bulldogs, there is a stronger bond. They adjust to their environment quickly and can make friends without any major problem.
With children, they'll create a bond and a love, and they can tolerate nonsense that you give them, but they don't deserve any nonsense from you regardless. They're an incredible dog to have around.
Here are some traits you'll appreciate:
 They are very loyal to their owners
They are affectionate and clumsy companions
They're comfortable in small places
They are very cute
They are stoic creatures
They have a guard-dog mentality (protective)
Why Choose an English Bulldog?
Many families go back and forth and which dog to choose for their family. Some want bigger dogs, and some want smaller ones. The beauty of choosing an English Bulldog is that they give you a big dog personality in a small dog body. They give you love and affection that a larger dog would, but they come in a smaller size.
If you're looking for the best dog to bring home to the family, maybe it's time to think about the famous English Bulldog. At Cedar Lane Bulldogs, we breed the high standard English Bulldogs for you and your family. You'll get to enjoy the most loveable addition to your family for a long time!
Contact Cedar Lane Bulldogs at 405-329-0066 today or visit us online for more information!