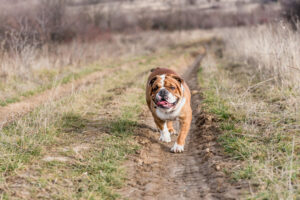 As winter slowly approaches, it's time to start thinking of ways to stay active and busy, especially if you have an English Bulldog. Many dog owners who have English Bulldogs don't think this is necessary because they are smaller dogs that are able to lay around with you during the colder months. Every dog needs a healthy amount of exercise and physical activity year-round, but it does get a little difficult to manage during the colder months of winter.
Oklahoma has different temperatures in the North and South. It gets pretty cold in the North, but in the South, it stays pretty mild. It's still a good thought to stay cautious of the colder temperatures.
Here are some tips to keep you and your dog busy this winter season:
Training for Tricks
One thing you can do and that is perfect for the colder months is to train your dog to learn new tricks. This is a great way to kill time without being outside in the cold. They will stay active with their body and learn new tricks and discipline, so they can show them off once summer comes around.
Shorter Walks in the Morning & Night
You'll still have to take your English Bulldog for walks each day because they need their exercise, but they don't have to be long walks like in the warmer months. Take them out to a park to walk around for a little while, and then drive home. If you usually take your dog around the block of your neighborhood for a walk, make sure to switch it up and go for a drive to some place.
More Dog Toys
This is the time of the year where you should be going to get new toys. It's understandable that your English Bulldog has probably torn through all of their toys from the summer months, so they definitely need new ones for the winter season.
At Cedar Lane Bulldogs, we provide families with the best English Bulldogs around to bring home as a new member of the family. We take pride in our English Bulldogs, and we treat them as family before we let them be taken home to you. If you're looking for a warm and loving English Bulldog to bring home this Fall and Winter, contact Cedar Lane Bulldogs at 405-550-4339 today or visit us online for more information!