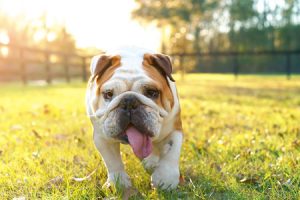 How much exercise does your English bulldog need? This is a question many new dog owners ask us. Let's take a closer look.
Just like their human companions, English bulldogs need regular exercise to stay happy and healthy. While many bulldogs are more inclined to relax on the couch than get out and move around, it's important to establish exercise as a regular part of your pup's routine.
They Need Specific Exercises Due to Their Build

Due to their short, stocky build, bulldogs are generally better suited to endurance workouts instead of short sprints. Your English bulldog may not want to pound the pavement with you on your next run, but there are plenty of other ways to get her exercise in. Aim for 20 to 30 minutes a day of low-impact exercise, such as walking, playing fetch, gentle wrestling or tug of war.
Many bulldogs enjoy walking for miles at a time, and you can even find the occasional bulldog in agility competitions!
Make sure your English bulldog is hydrated at all times when exercising, paying particular attention in hot or humid weather. If your dog is tired, avoid pushing her to overexert herself. Let her rest and then begin again.
Looking for an English bulldog to welcome into your home? Cedar Lane Bulldogs is among the most reputable English bulldog breeders in Oklahoma, with more than 40 years of breeding experience. Above all else, we always breed for health and conformation. To learn more, visit our FAQ page or give us a call at (405) 329-0066 today!