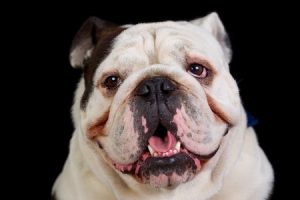 Although English Bulldogs typically don't require much in the way of grooming, dogs with light coloring will sometimes develop reddish-brown tear stains in the folds of skin on their faces. If they're not cleaned and removed, these stains can cause irritation and discomfort for your dog.
Here's how to treat tear stains in English Bulldogs:
First, determine the source of the tearing. Allergic reactions to dust, smoke, pollen, food additives and chemicals can cause tearing in Bulldogs. Some amount of tearing is perfectly normal and nothing to worry about, but in some cases, a genetic condition can cause the eyelids to turn inward. This, in turn, can trigger excessive tear production when the eyelashes rub against the dog's eye.
If this is the case, a minor surgical correction will solve the problem. Keep in mind, however, that it may reoccur as your dog's head grows, particularly if he or she has a heavily wrinkled face. It's important to have your vet monitor the condition, as it can cause eye ulcers and loss of sight if left untreated.
Allergies or Infections
Tearing due to allergies or minor infections can be prevented by cleaning the area of your English Bulldog's eyes regularly, including the wrinkles. Apply some peroxide to a cloth and gently clean the area, but avoid getting it in your dog's eyes. You can also use little bit of Desitin baby ointment to create a barrier between the tears and fur to prevent staining, but be careful to use only a small amount, as it can stain furniture and clothing.
Interested in learning more about the English Bulldog breed? Check out the FAQ page on our website or give us a call at (405) 329-0066 today!