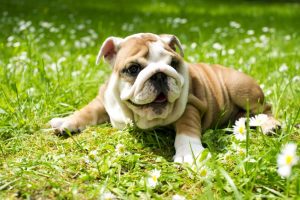 It can be difficult for many dog owners to keep them active during the COVID-19 pandemic. As states around the country start to slowly open up specific businesses, we still have to be cautious of being social distant. Staying home and going out less may still be the norm for quite some time. Regarding your bulldog's health and exercise, here are some tips to keeping them active during the quarantine.
Stick to the Status Quo
You never want to make drastic changes to your routine or schedule with your bulldog. Considering how the lockdown is going, there needs to be some adjustments, but the routine needs to stay the same. Walking your dog once a day down the road, taking them out to use the bathroom, and feeding them on their regular schedule is important to keep up with while quarantining during the COVID-19 Pandemic.
What can I do to keep them occupied?
Learn New Tricks! (reinforce with treats)
Take Your dog for a drive
Groom Regularly
Go for Walks
Play tug of war
Learn to relax
While staying safe and social distancing, long walks and hikes will help keep you sane and your dog active. Now, with a bulldog, you don't necessarily want to tire them out too much. A bulldog doesn't need an excessive amount of exercise, so make sure to keep that in mind.
Cedar Lane Bulldogs
We know it can be difficult at this time to keep up with work while staying home, as well as taking care of your bulldog, but there are ways to keep up with your schedule. Bulldogs are amazing dogs to have around the home as company and another member of the family. It's important to be able to have someone around during the quarantine. Contact Cedar Lane Bulldogs at 405-329-0066 today!