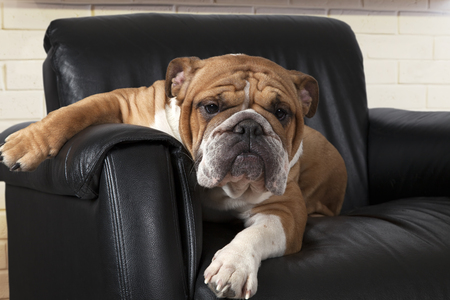 Think dog ownership isn't for you because you live in an apartment? Think again! English bulldogs are great companions for apartment dwellers. Here's why:
They Like to Relax
English bulldogs aren't known for being an especially active breed, so they can live comfortably in relatively small spaces where there's not much room to run around. More often that not, your pup will just want to lounge around with you and relax. Just be sure to give your English bulldog some light exercise on a regular basis to keep their weight in check.
They Rarely Bark
Worried your pet will aggravate the neighbors with constant barking? That's not a concern with most English bulldogs. They rarely bark and are known for their gentle dispositions.
They're Short
English bulldogs of both genders typically grow to a height of just 12 to 15 inches—another reason why they're a great choice for apartment residents. While they're solid and compact, most English bulldogs fit within the 50-pound weight limit imposed by many landlords.
They're Obedient
English bulldogs are eager to please their owners. With proper training, they'll happily obey your commands, making for a harmonious living arrangement in your apartment.
If you live in an apartment and want to bring home an English bulldog of your own, visit Cedar Lane Bulldogs, one the most reputable English bulldog breeders in Oklahoma. Just give us a call at (405) 329-0066 today to learn more!